ABOUT THE BEERBIKE BUSINESS
Everything you need to know about Kingbike and the beerbike business
We started with one beerbike, now we own 5 of them
Over the past 6 years we have organized more than 5300 tours for our Hungarian and foreign guests
We also organize beerbike tours abroad for our foreign guests
We have tested many beerbike manufacturers' bike so that we could find the model that has the right quality and usability
By choosing the right beer bike you can expect less service cost and more satisfied guests since you do not have to worry about downtimes and refunds for unsatisfied guests
TAKE A LOOK AT OUR OFFER OF NEW AND USED BEERBIKES
Please inquire about the current stock at our contacts or by filling the contact form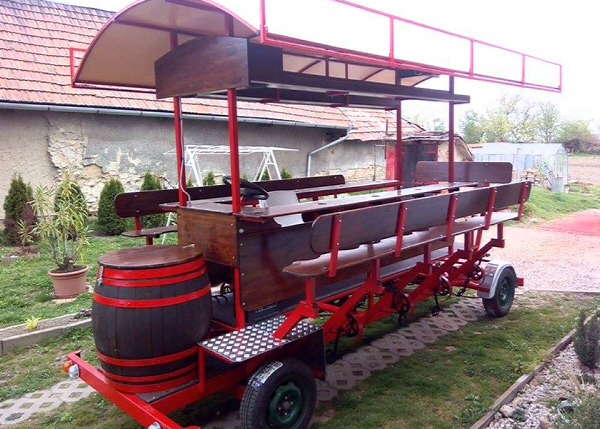 NEW BEERBIKE
SPECIFICATION
15 seats
special cooler (it took a long time for us to find the right cooler that is able to cool down the beer even in 30-36 degrees throughout the day)
beer tap
drip tray – unique due to the tapping equipment
painted welded hollow section
advanced high-rigidity chassis and undercarriage construction
steering gear: rack-and-pinion
undercarriage: passenger car, worn parts replaced
brakes: handbrake bowden cable, hydraulic foot brake
transmission from pedals to two solid 30mm diameter crankshafts
out of 14 seats, 8 has pedals, 1 is the driver's seat and 5 are rest seats
roof structure: curved iron frame with canvas
audio system: Bluetooth media box
LED lighting everywhere (direction indicators, brakes, position indicators)
LED roof lighting
high capacity battery
charger
consoles for advertising your business on the roof
non-slip plywood on the floor
storage for the guests' belongings
benches for comfort and safety
non-slip covers on fenders for safety
front and rear bumpers
removable roof for convenient transport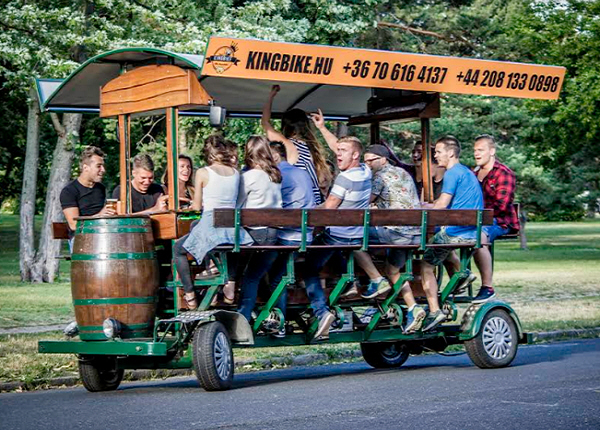 USED BEERBIKE
SPECIFICATION
15 seats
painted welded hollow section
Advanced high-rigidity chassis and undercarriage construction
steering gear: rack-and-pinion
undercarriage: passenger car, worn parts replaced
brakes: handbrake bowden cable, hydraulic foot brake
transmission from pedals to two solid 30mm diameter crankshafts
out of 14 seats, 8 has pedals, 1 is the driver's seat and 5 are rest seats
counters, benches are made of solid pine wood, the thickness is 18 mm
roof structure: curved iron frame with canvas
audio system: Bluetooth
LED lighting everywhere (direction indicators, brakes, position indicators)
roof lighting: LED strip
chassis lighting
battery
charger
consoles for advertising on the roof
non-slip plywood on the floor
storage for the guests' belongings
benches for comfort and safety
non-slip covers on fenders for safety
front and rear bumpers
classy panel
FRANCHISE BUSINESS OPPORTUNITY
We provide the following benefits to our partners
Helping in choosing the right beer
Supporting the conclusion of a beer contract
Providing proper route guidance
Sharing the settled processes in the course of a consultation
Continuous advice regarding the course of business
Developing personalized efficiency improvement processes
Define and select the target audience
Consulting on sales channels
Designing a unique logo and helping with branding
Website SEO, SEM, PPC, Setting of Facebook campaigns and their monitoring and optimizing for 2 months
Creating online marketing contents for Facebook for 2 months, designing posters and flyers in A3, A4 and A5 size
Integrate our online booking system
RETURN ON INVESTMENT
How much money can you make?
The usual price of beer bike tour is 300 EUR for 1,5 hours. If you will have just 3 rides in a week, it's 12 rides in a month. So you are making 3600 EUR/month. We can say that beerbiking is good business opportunity with high possible earnings.
If you want to take the first step to set up your new business or just need further information about the beerbike business please don't hesitate to contact us via email or phone!