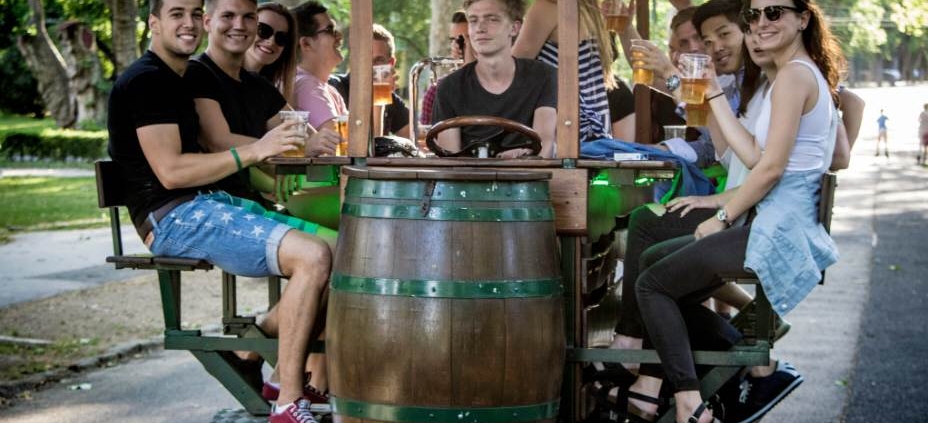 To start the tour all the participants should have to be sober and manageable. You can't drink liquor on the beerbike. You can't drink your own alcohol, only the one's the staff bring. If you bring it anyway, it will wait for you at the start of the departure.
Only 18 years olds can alcohol on the beerbike. The under age guests may choose from a wide scale of alcohol free drinks.

Please stay seated, until the vehicle stops and your driver says it's safe to get off. The getting on and getting off while the tour is going is dangerous.

Junking and cigarette stub dropping should not be adjustable. Please use the garbage can and ashtray.

Singing is required, we want you to feel good during the beerbike tour, but please don't bawl or offend the passers.

It's important to us to keep our environment and budapest clean, for that you can't pee at public spaces. There is some location through the tour, where you can go to bathroom. Please let the driver know!
If you want to book a beerbike in Budapest just call +36 70 616 4137 or you can send us an email to info@kingbike.eu
https://kingbike.hu/wp-content/uploads/2019/04/beerbike_budapest_blog1.jpg
619
928
sorbicikli
https://kingbike.hu/wp-content/uploads/2019/03/beerbikelogo.png
sorbicikli
2019-04-05 13:27:59
2019-06-04 14:21:34
Beerbike Instructions