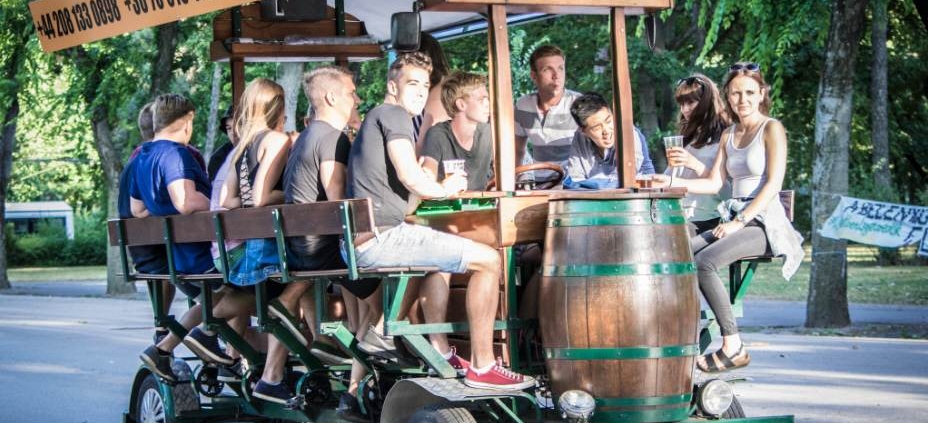 Many times you asked us about a beerbike tour! We have summarized the most important issues. Of course, if you need more help and information, we welcome your calls and messages. Find us by phone, e-mail, or even Facebook!
How old can you go for a beer bicycle?
The beer biking are not age-bound, but they can only drink alcohol at the age of 18!
Can you have liquor on the tour?
Drinking liquor may lead to accidents at beerbiking, therefore it is forbidden.
Can you drink alcohol before the tour begins?
Before beerbike tour, everyone must be in a sober, manageable state. Those who arrive drunk are not allowed to attend the beerbike tour.
Are there stops during the tour?
"Peeing at public spaces" The driver will stop the tour. Routes are designed to allow you to handle smaller or bigger things.
How many can the bicycle travel at one time?
The beerbikes can be used at a minimum of 4, maximum 16 people at a time. We can drive up to 150 people on several bicycles.
Are prices per person?
Our beer bicycling rates apply to groups. This is shared among the participants.
What are optional drinks besides beer?
Wine, spricer, cider and non-alcoholic drinks can be chosen, but we can get everything from prior consultation.
Can you bring a drink to the bike?
The beer bicycling can only consume our drinks. If you have a drink you can leave it at the place of departure or in the bicycle storage.
Can packages be put down somewhere?
Packages can be placed both at the start and in the bicycle storage.
Can I smoke beer bicycling?
Yes. Our beerbikes are also have ashtray and garbage can. Waste and rubbish can not be thrown!
Is it a rainy season?
During the storm, the tours are delayed. In this case, missed tours can be retrieved at other times or the deposit will be refunded.
Are the drinks cool?
Every drink goes to the beer bikes, except in the winter the boiled wine! But it's really hot!
How long time can the beerbike be rented?
Bicycles can be rented for at least one hour. By prior arrangement, you are up to the whole day!
Can we drive the beerbikes?
We provide a sober driver for each tour, who is driving by the laws. Others may not control the beerbike.
Can a separate bait be asked for the tour?
Naturally! We can provide you with hostesses and handsome hosts who provide you with drinks.
Do you have music on the beerbike? The beerbikes are ready to go for a party! Bring your favorite music on your smartphone or pendrive and we provide the sound system and the lights!
If you have any question about beerbike Budapest please call us on
+36 70 413 0976!
https://kingbike.hu/wp-content/uploads/2019/04/beerbike_budapest_blog2.jpg
619
928
sorbicikli
https://kingbike.hu/wp-content/uploads/2019/03/beerbikelogo.png
sorbicikli
2019-04-05 13:22:53
2019-06-04 14:23:23
Frequently asked questions about Beerbike Budapest